Bruce Burtch Photography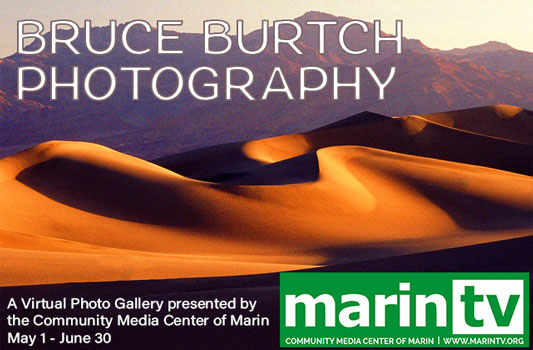 The Community Media Center of Marin presents "Bruce Burtch Photography," a virtual photo gallery on exhibit through June 30.
"Over the past nearly 50 years, a high-quality Canon camera was never far from my side," says Burtch, who has been called the "Father of Cause Marketing" and currently serves as executive director/producer, pro bono, of Social Impact Productions, a nonprofit organization focused on producing educational and socially impactful communications.
"Whether splattered with sand from climbing a dune in Death Valley, dust-covered from a dry Native American pow wow, or the tragedy of dropping my best camera into the ocean (a total loss), this wonderful hobby has allowed me to find miraculous beauty in far-off places and my own backyard.  The following is but a sample of what my eyes have witnessed and my camera has captured."
View Bruce Burtch Photography, by clicking HERE